An eco-responsible firm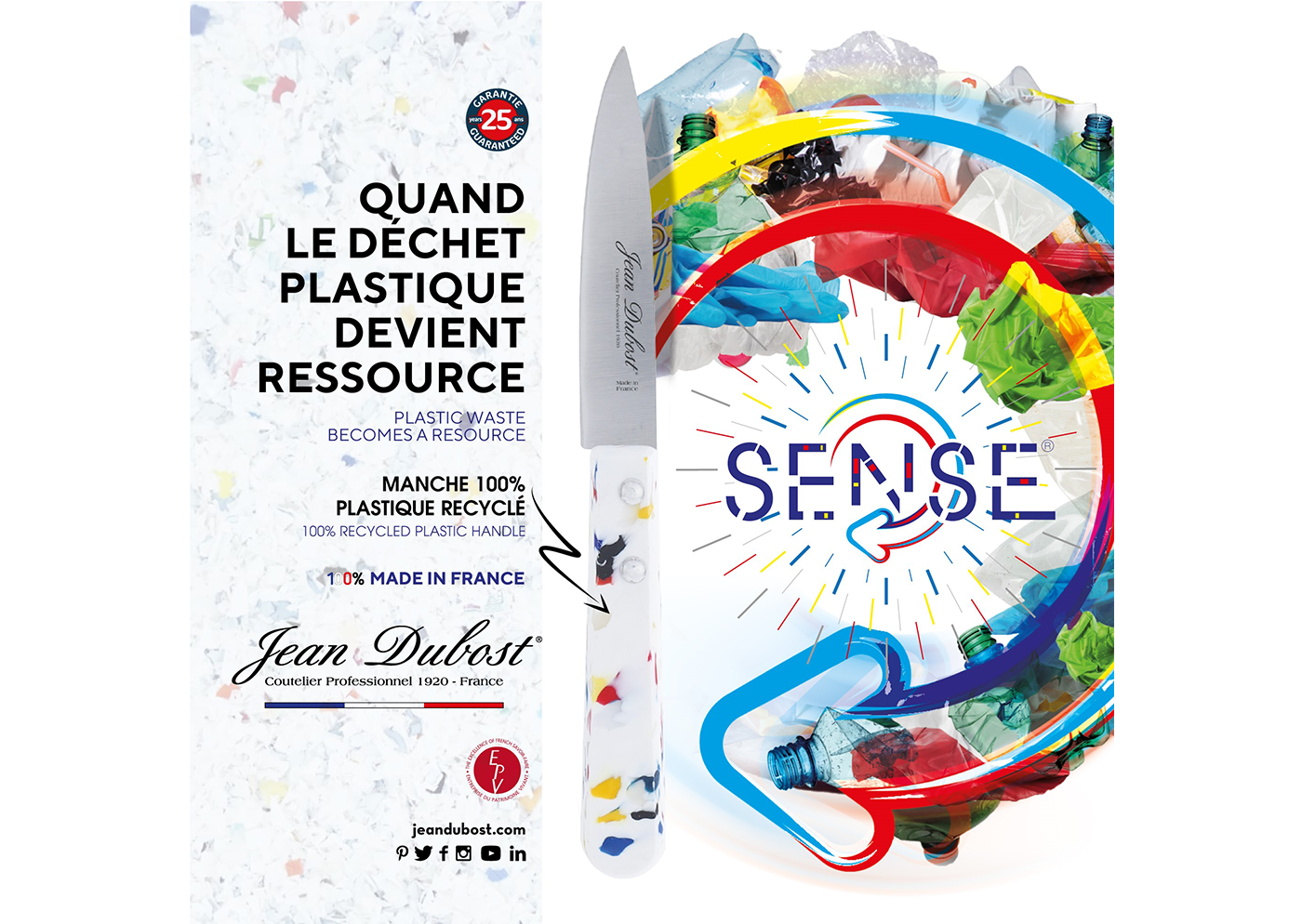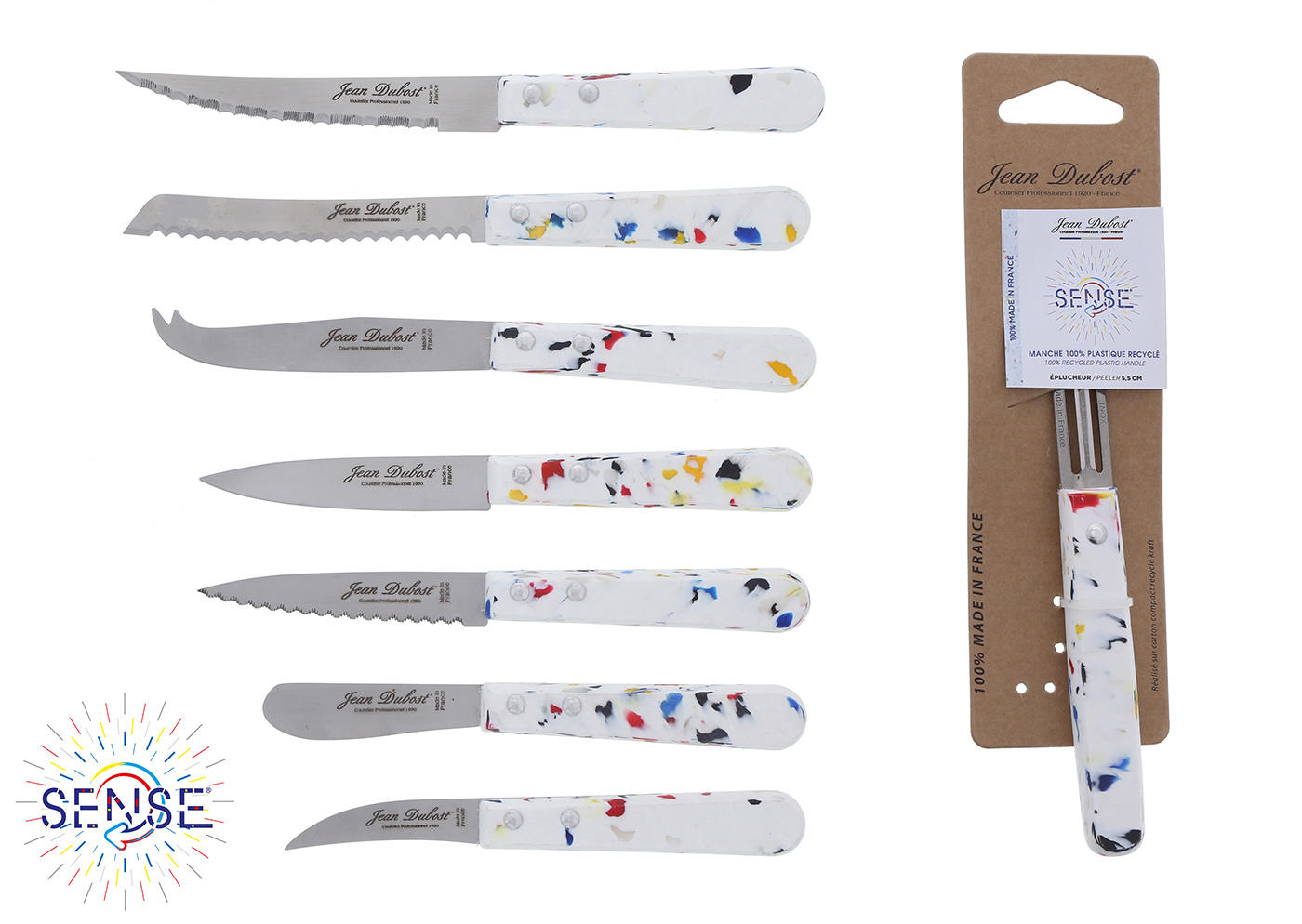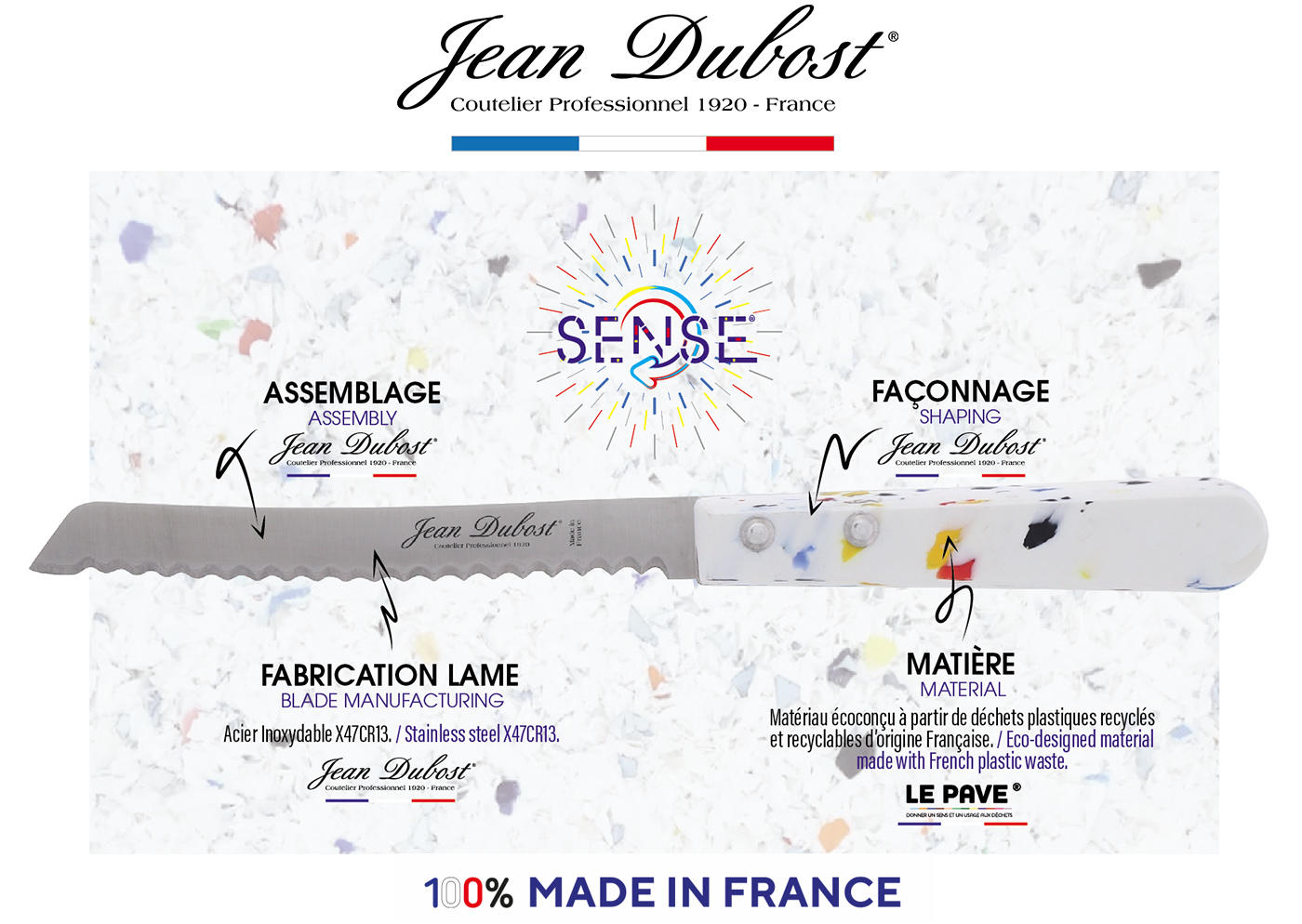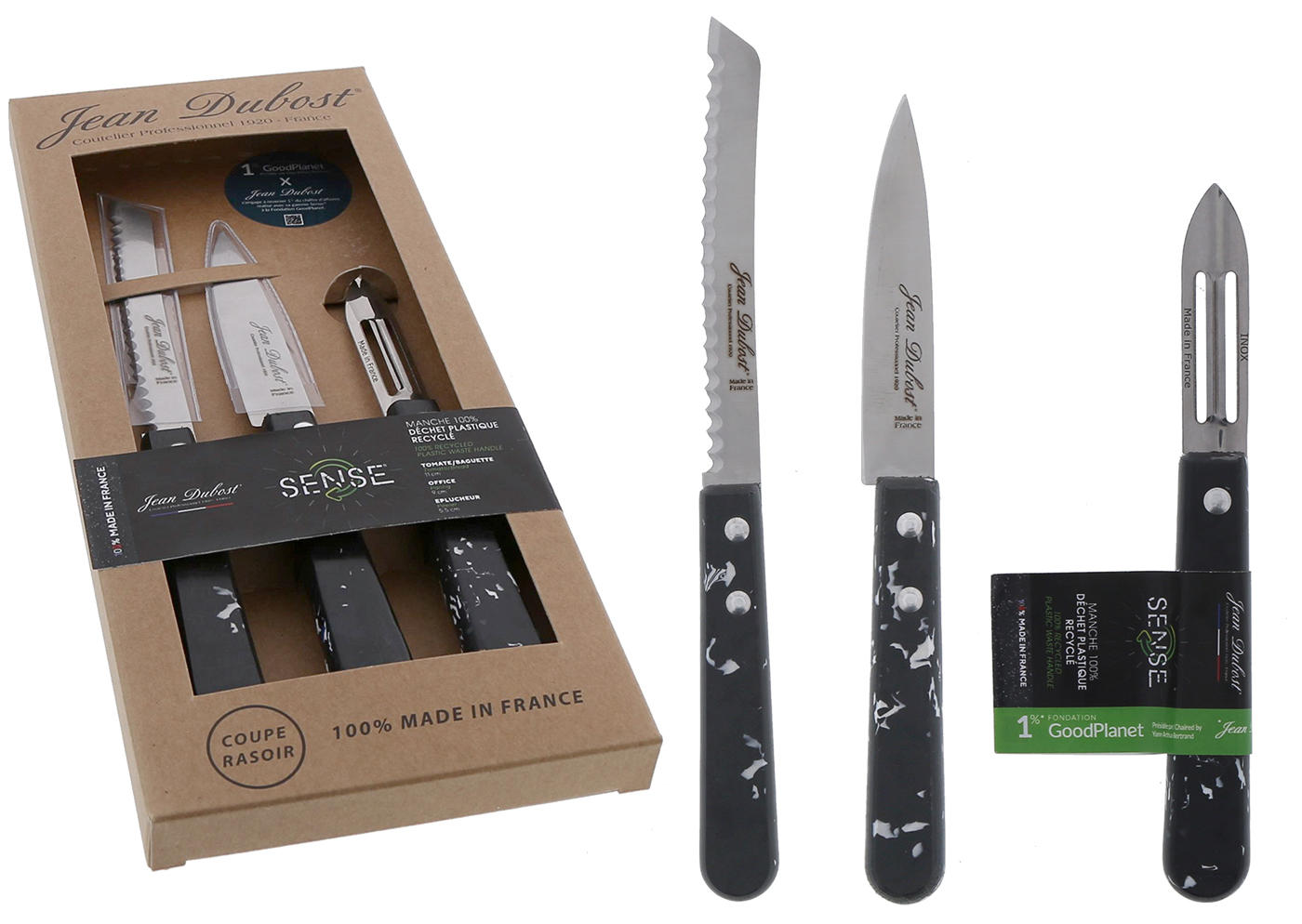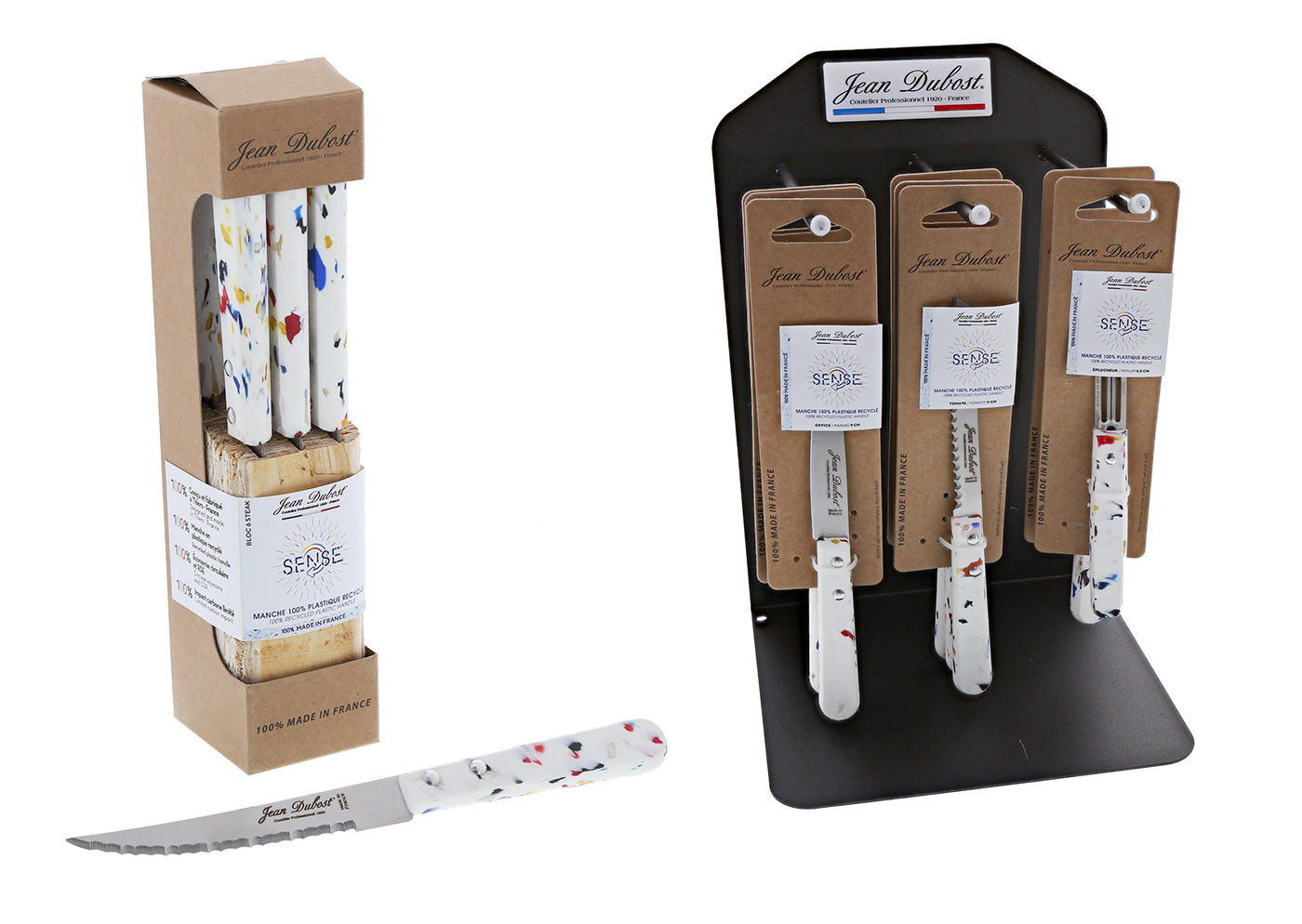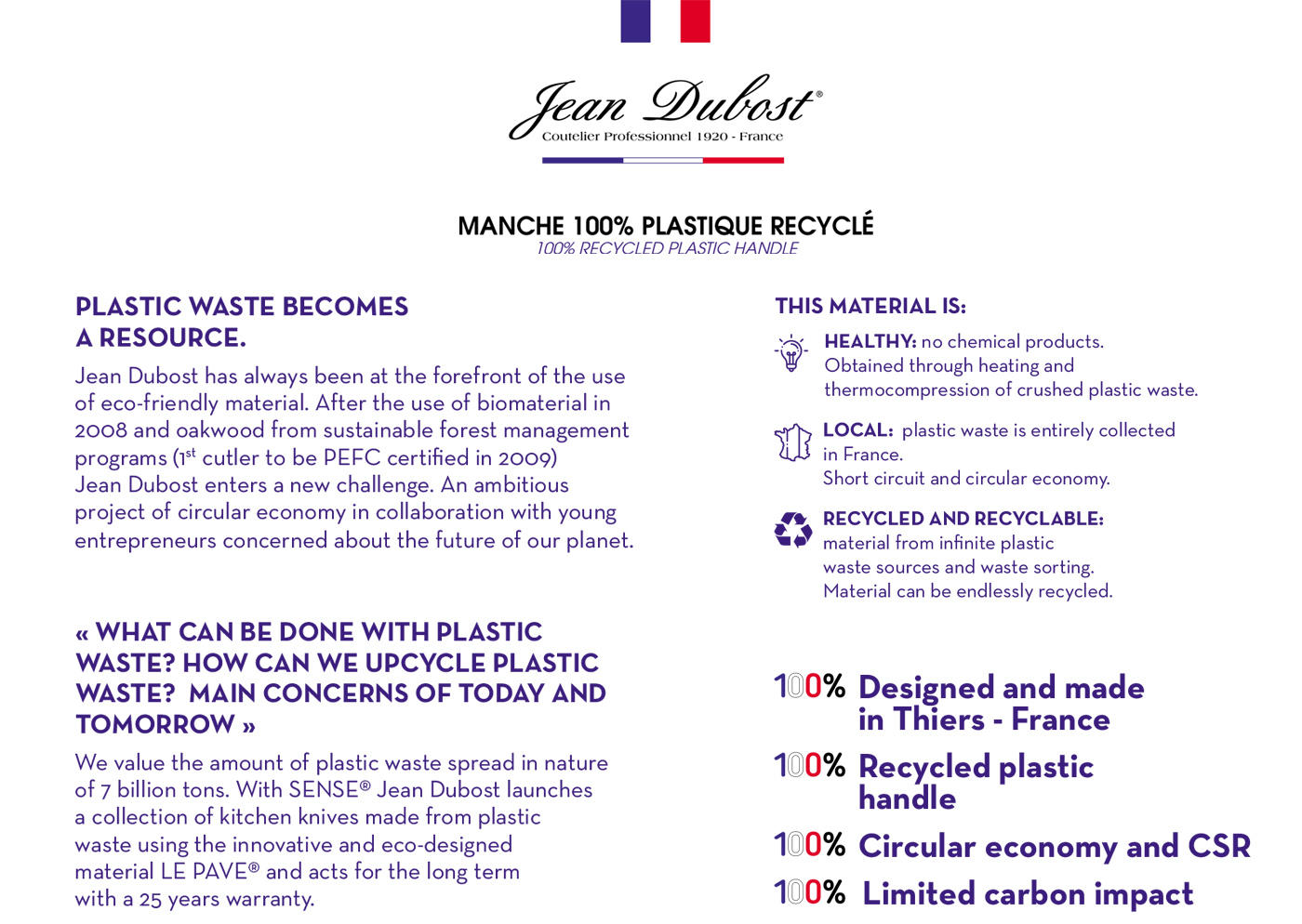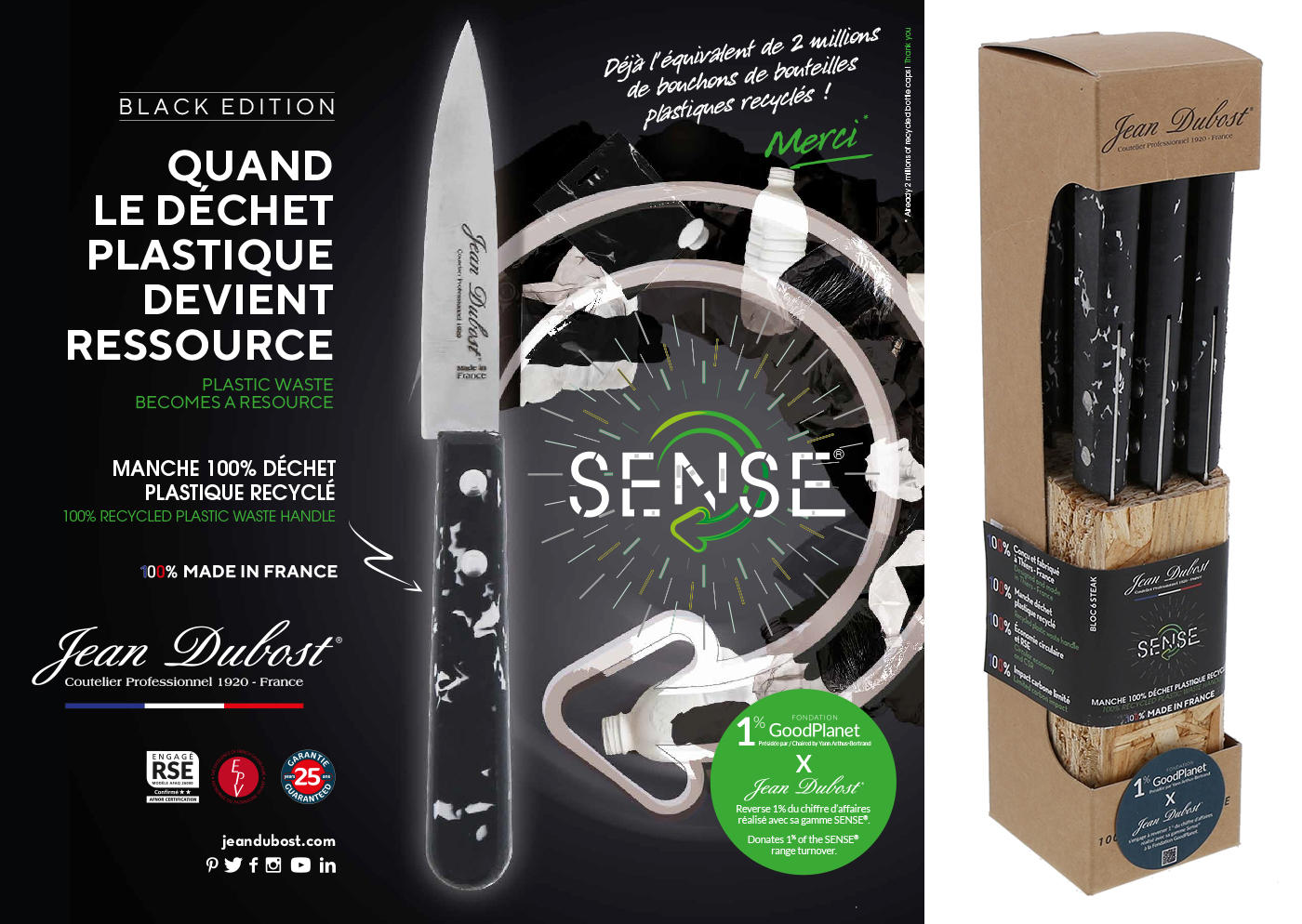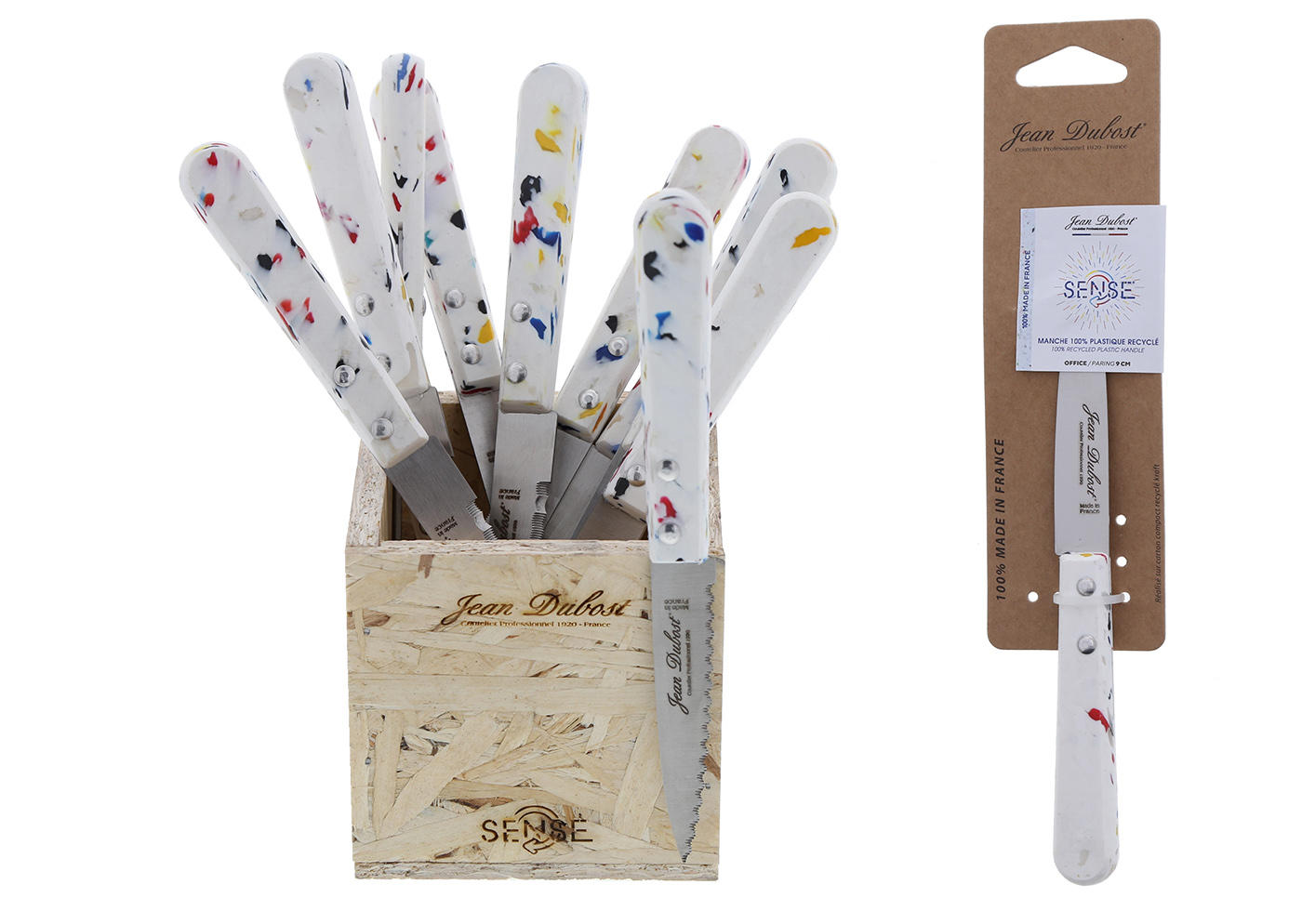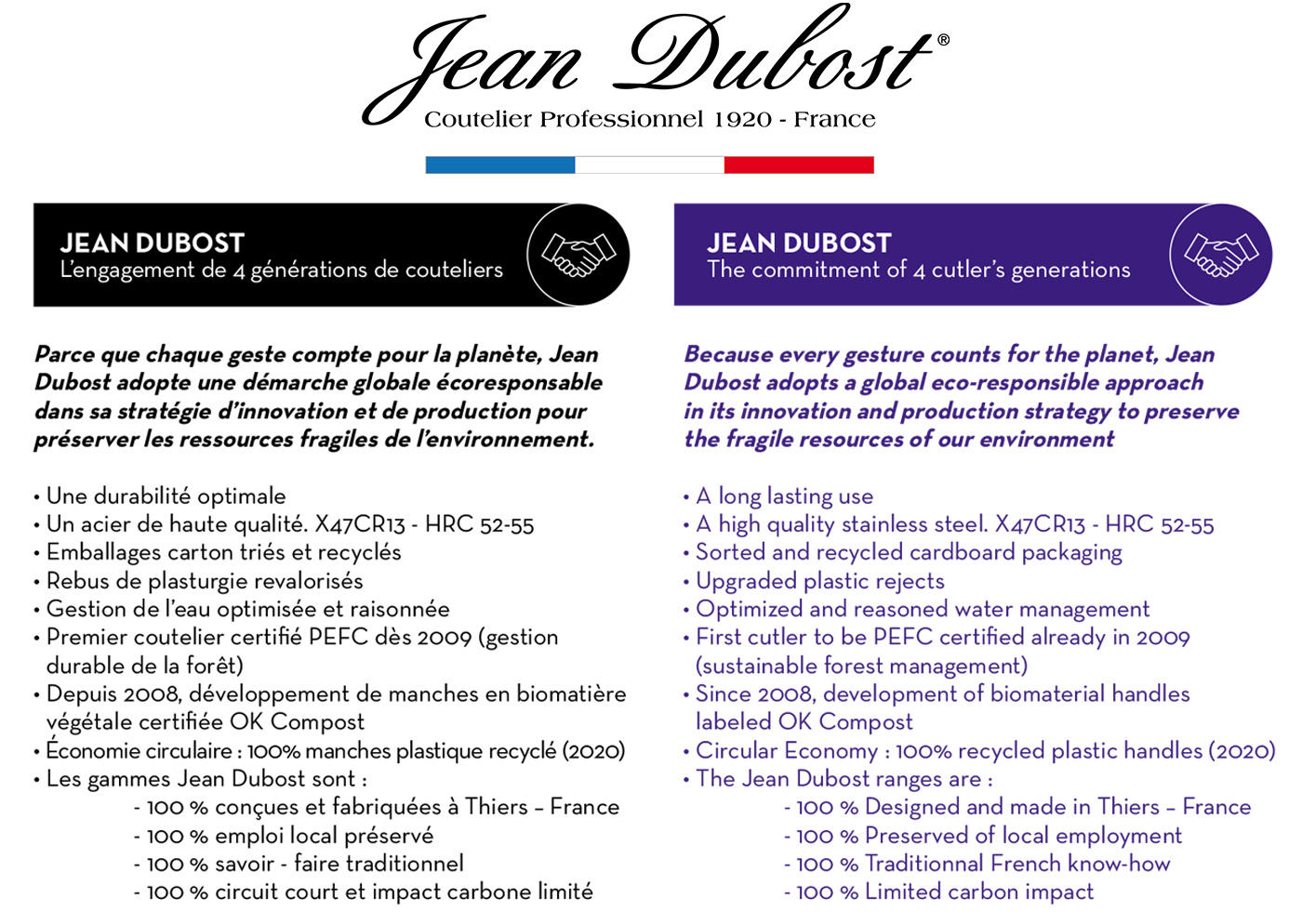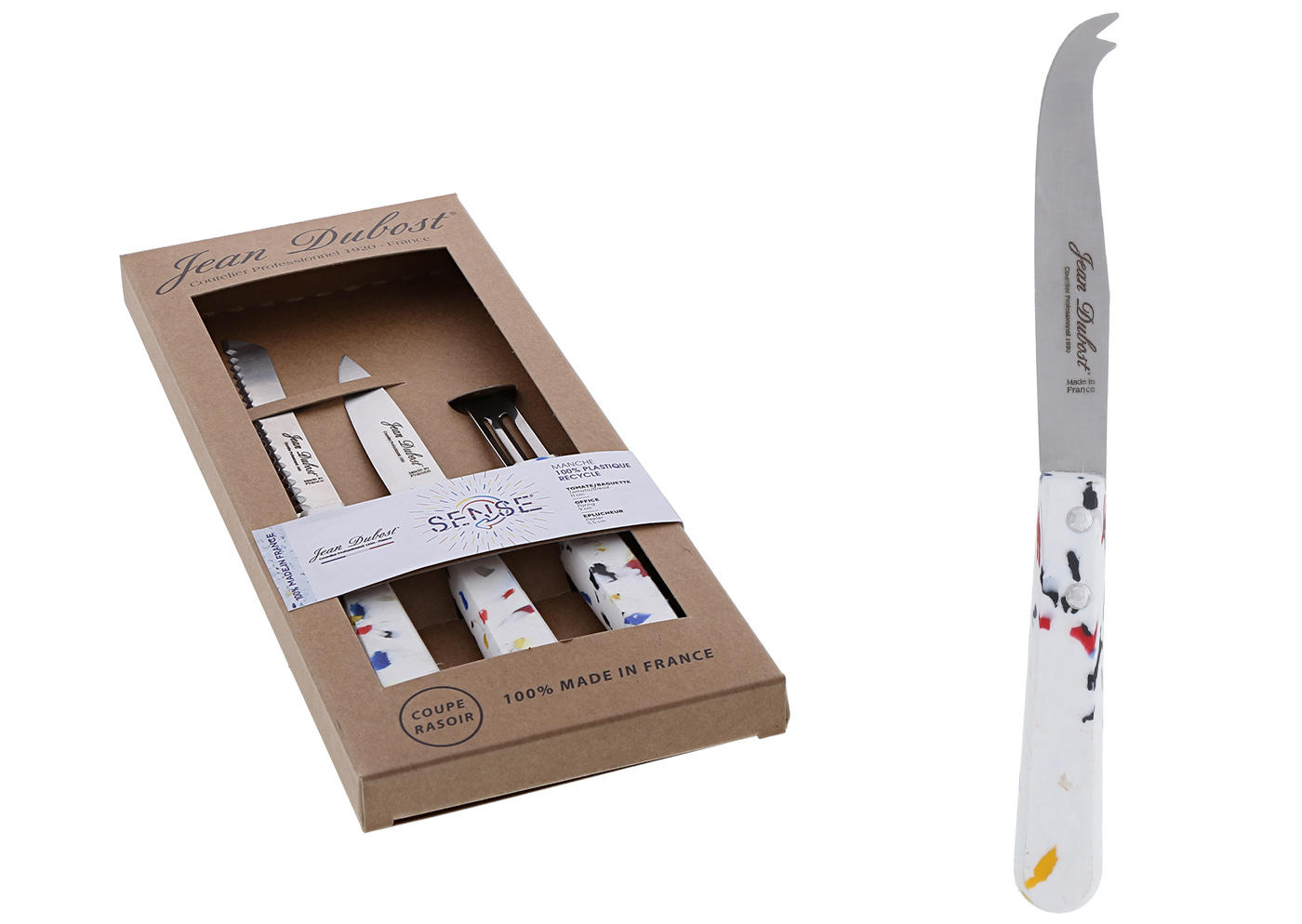 PLASTIC WASTE BECOMES A RESOURCE
Jean Dubost french centenary cutler, joins forces with a french start'up to launch a range of new knives whose handles come from the circular economy.

Jean Dubost commited french cutler, has always been at the forefront of the use of eco-friendly material. After the use of biomaterial in 2008 and oakwood from sustainable forest management programs (1st cutler to be PEFC certified in 2009) Jean Dubost enters a new challenge. An ambitious project of circular economy in collaboration with young entrepreneurs concerned about the future of our planet.

« WHAT CAN BE DONE WITH PLASTIC WASTE? HOW CAN WE UPCYCLE PLASTIC WASTE? MAIN CONCERNS OF TODAY AND TOMORROW »

We value the amount of plastic waste spread in nature of 7 billion tons. With SENSE® Jean Dubost launches a 100% made in France new collection of kitchen knives made from plastic waste using the innovative and eco-designed material LE PAVE® and acts for the long term with a 25 years warranty.

100% Designed and made in Thiers, France
100% Recycled plastic handle
100% Circular economy and CSR
100% Limited carbon impact
Lame
The handles of our "Vintage 40% mini" range are made from at least 40% recycled and reused polypropylene material, from the rebuffs of our own manufacturing workshops. We recover the "carrots" (waste from previous productions), then upcycle them to make new handles. Depending on the waste collected, 40% to 100% are reused for the manufacture of the handles of our "Vintage 40% mini" range. An eco-designed collection in which the material of the handle comes from a 100% circular economy approach within our manufacture and 100% made in our workshops at viscomtat near Thiers capital of French cutlery.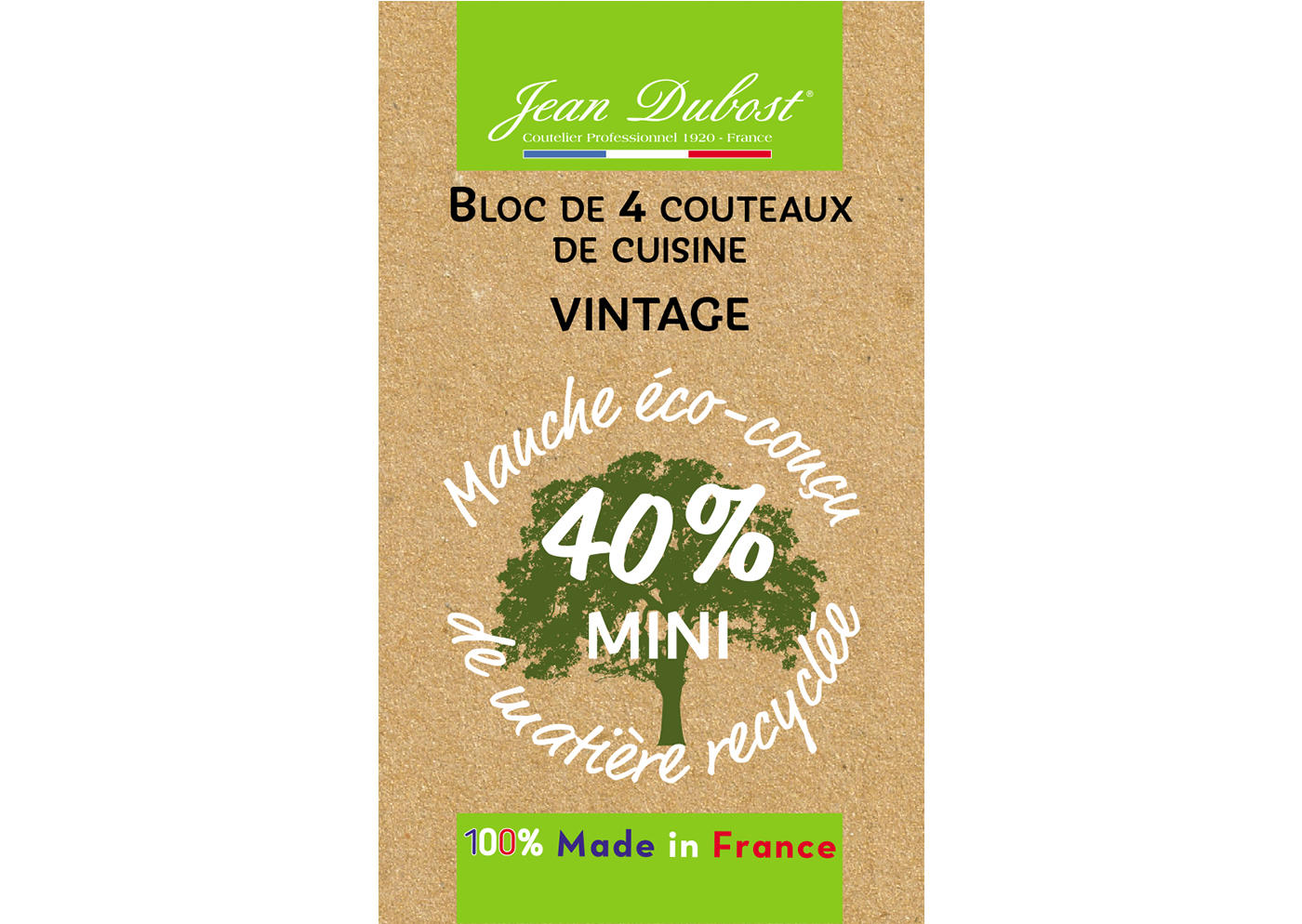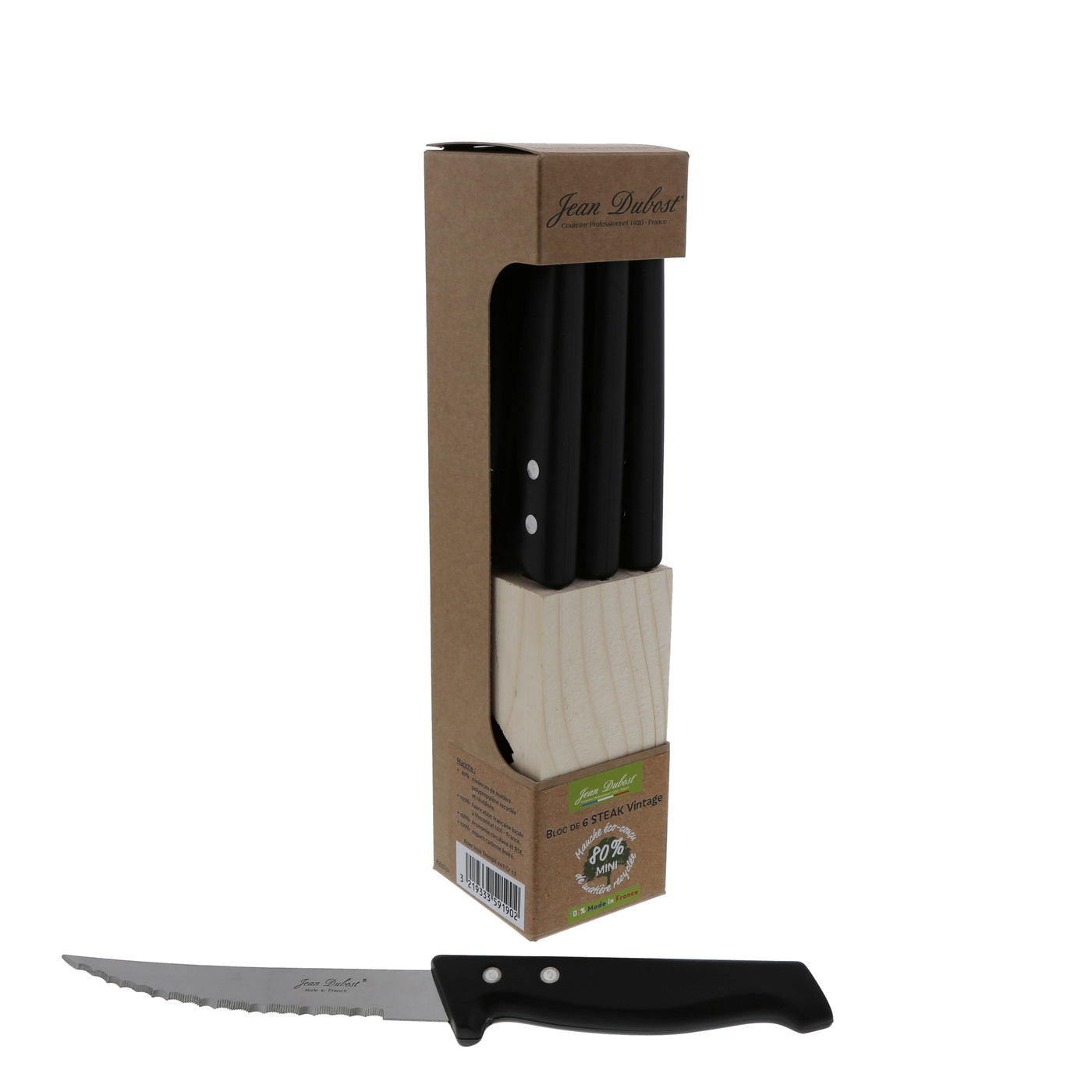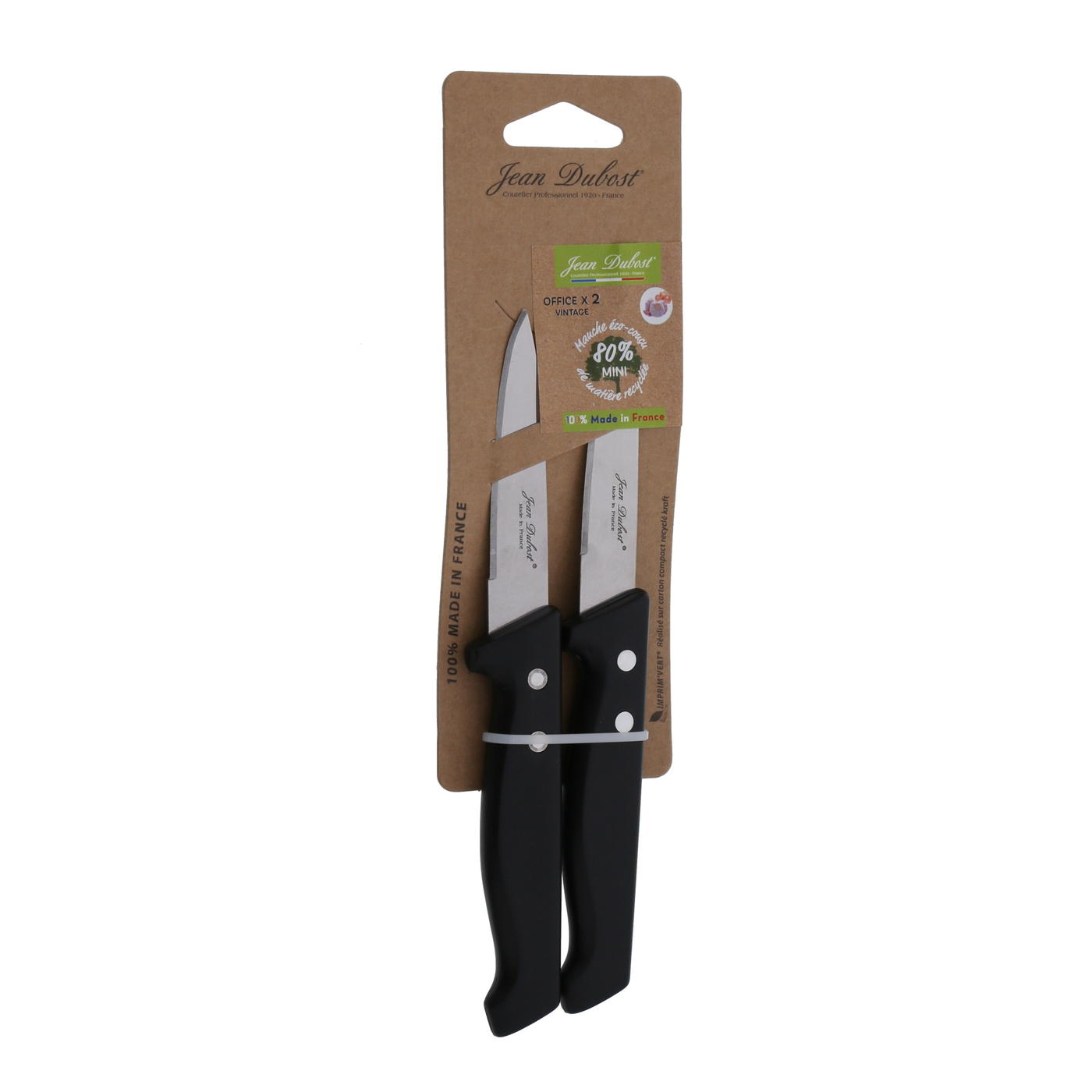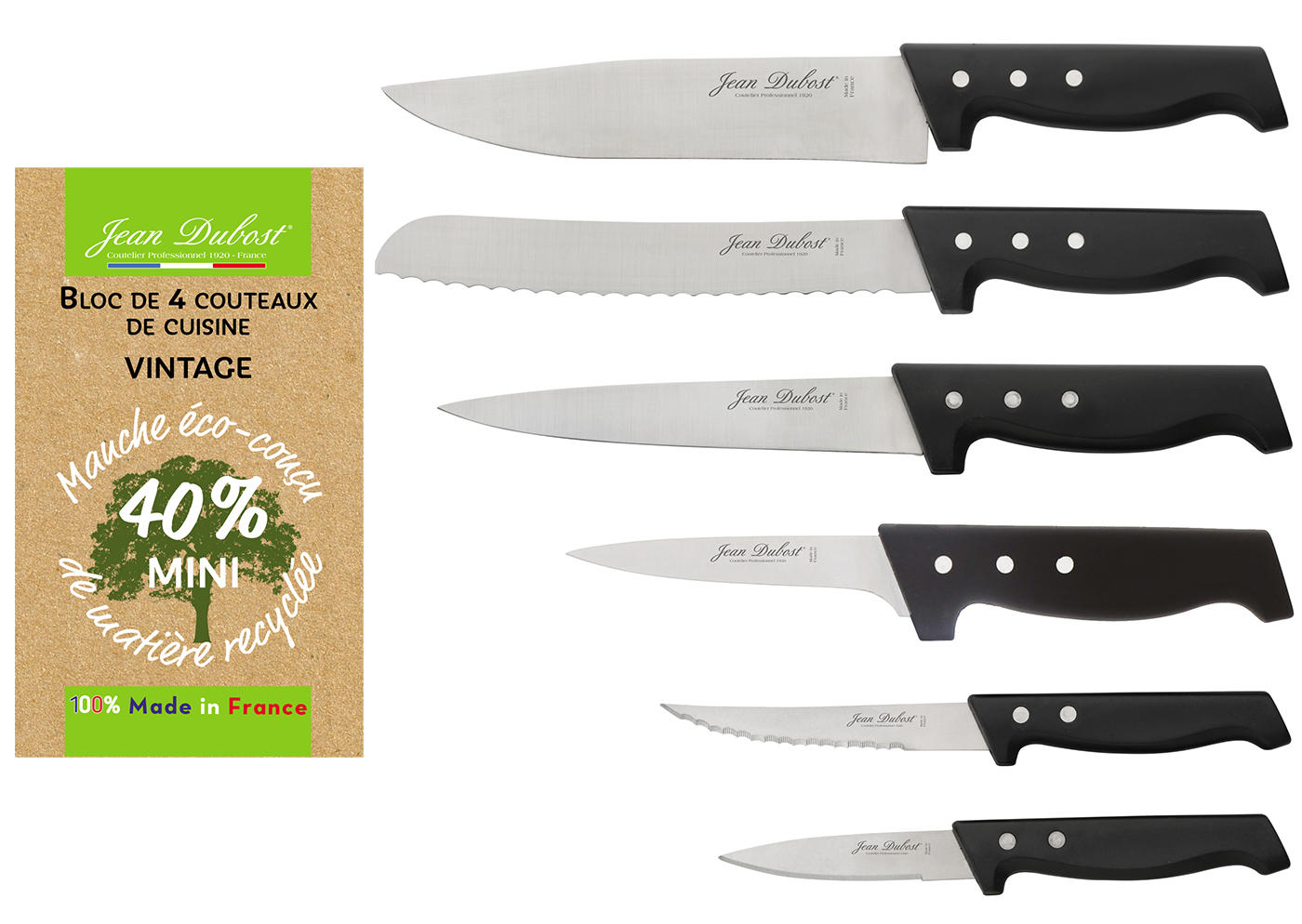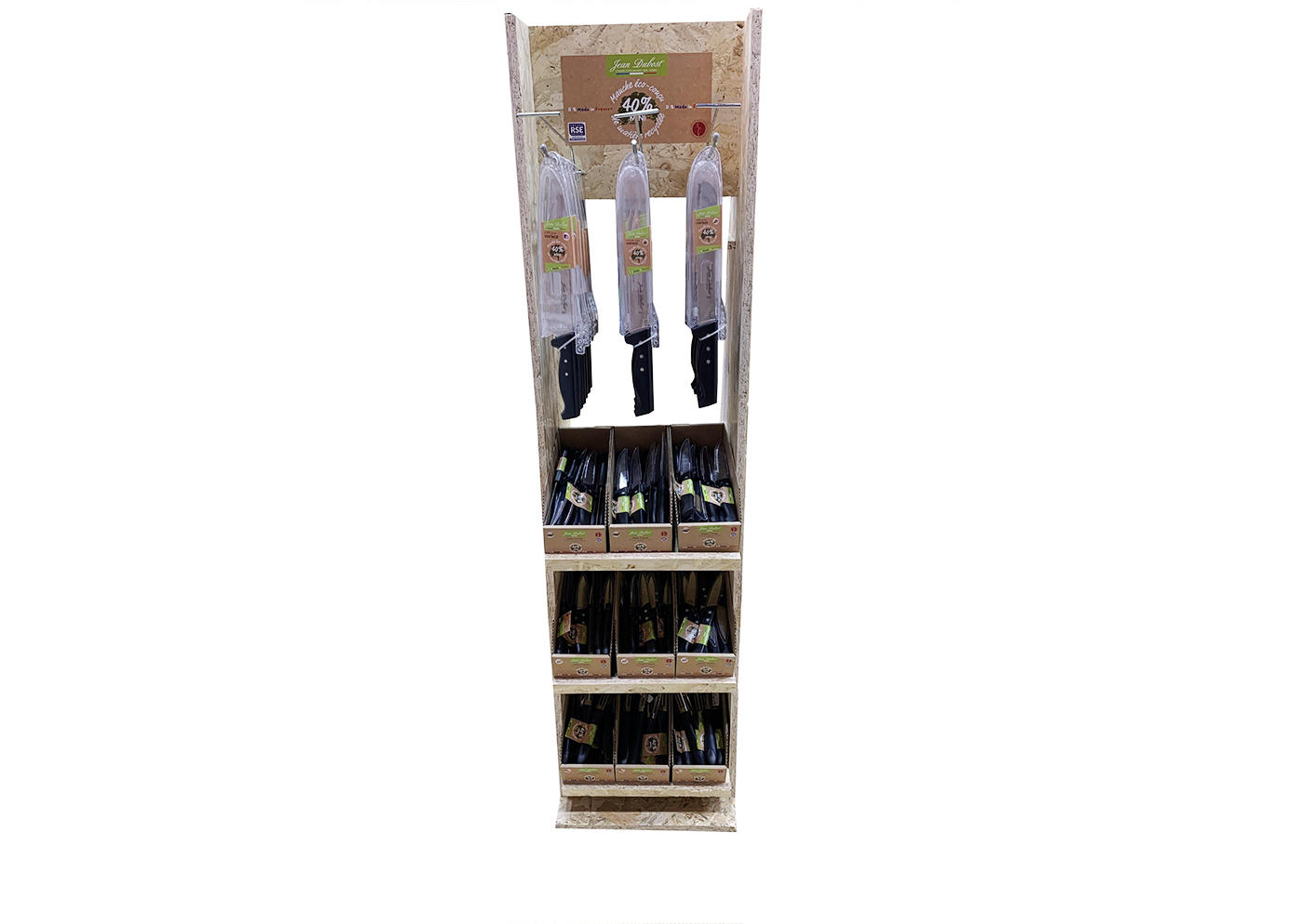 Material recycling and biodegradability - the Line and Natura ranges:
Jean Dubost takes an innovative approach with its 100% recyclable Line and Natura ranges of kitchen and tableware: a 100% recyclable stainless steel blade and a unique handle, the result of advanced research (a project launched in 2008), all to serve the environment. These handles are made from a plant-based bioplastic based on cornstarch, a renewable resource which ensures that they are 100% COMPOSTABLE and BIODEGRADABLE. A range which was recognised in 2018 at the Exclusively Housewares trade fair in London by trend consultancy Scarlet Opus for the Design Trend – ECO 2.0 #ownyourownimpact category: this eco-design category recognises "a new direction and awareness of the eco-design movement, to ensure that each of us becomes aware of our personal impact on the environment and society".
100% recycled cardboard packaging, printed using natural plant-based inks ensures that the needs of both nature and table lovers are met.
Line product sample : Line paring knife, Line steak knife, Line peeler knife
Natura product sample : 100% recyclable case with 3 Laguiole Natura cheese knives - 100% recyclable case with 6 Laguiole Natura steak knives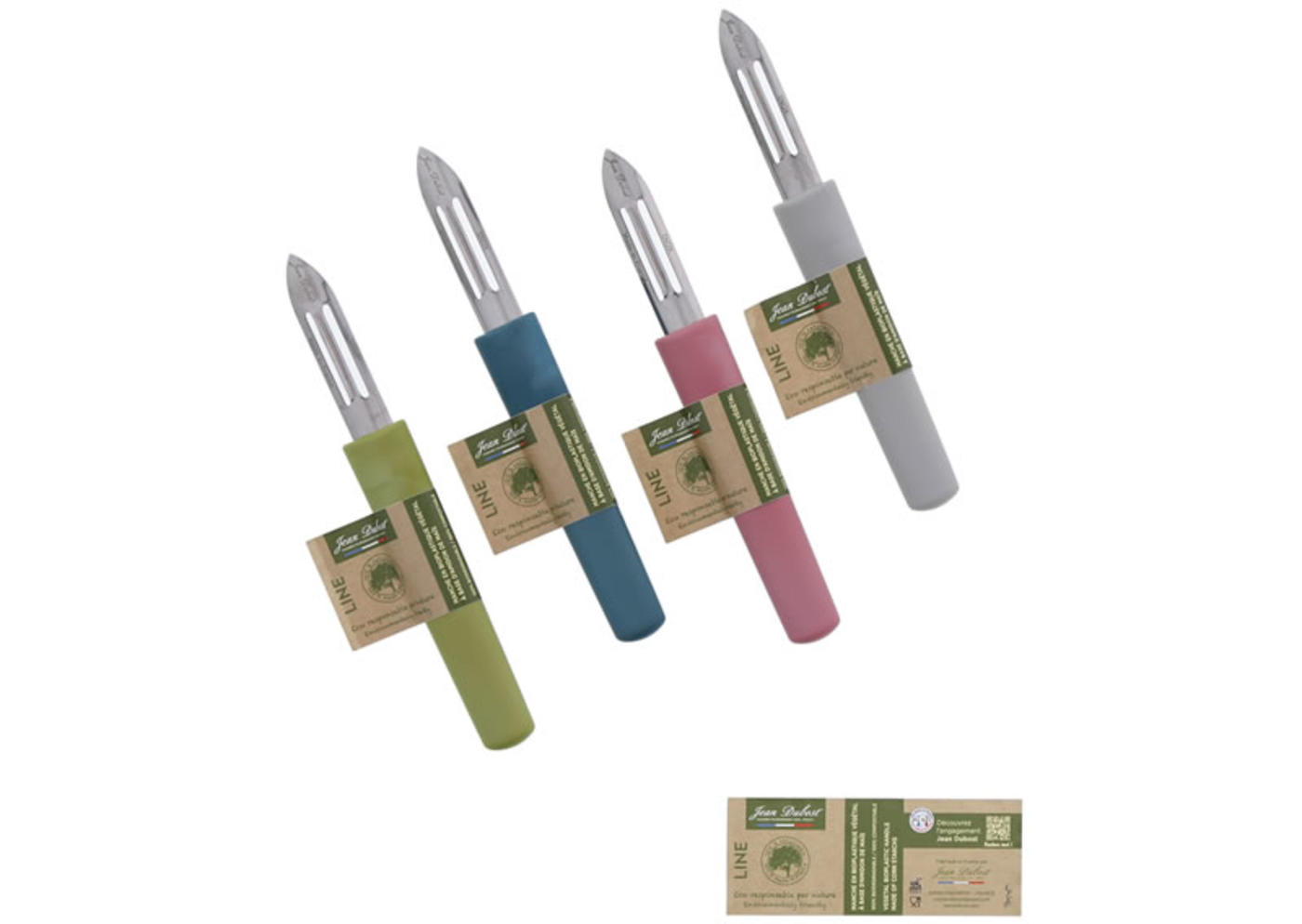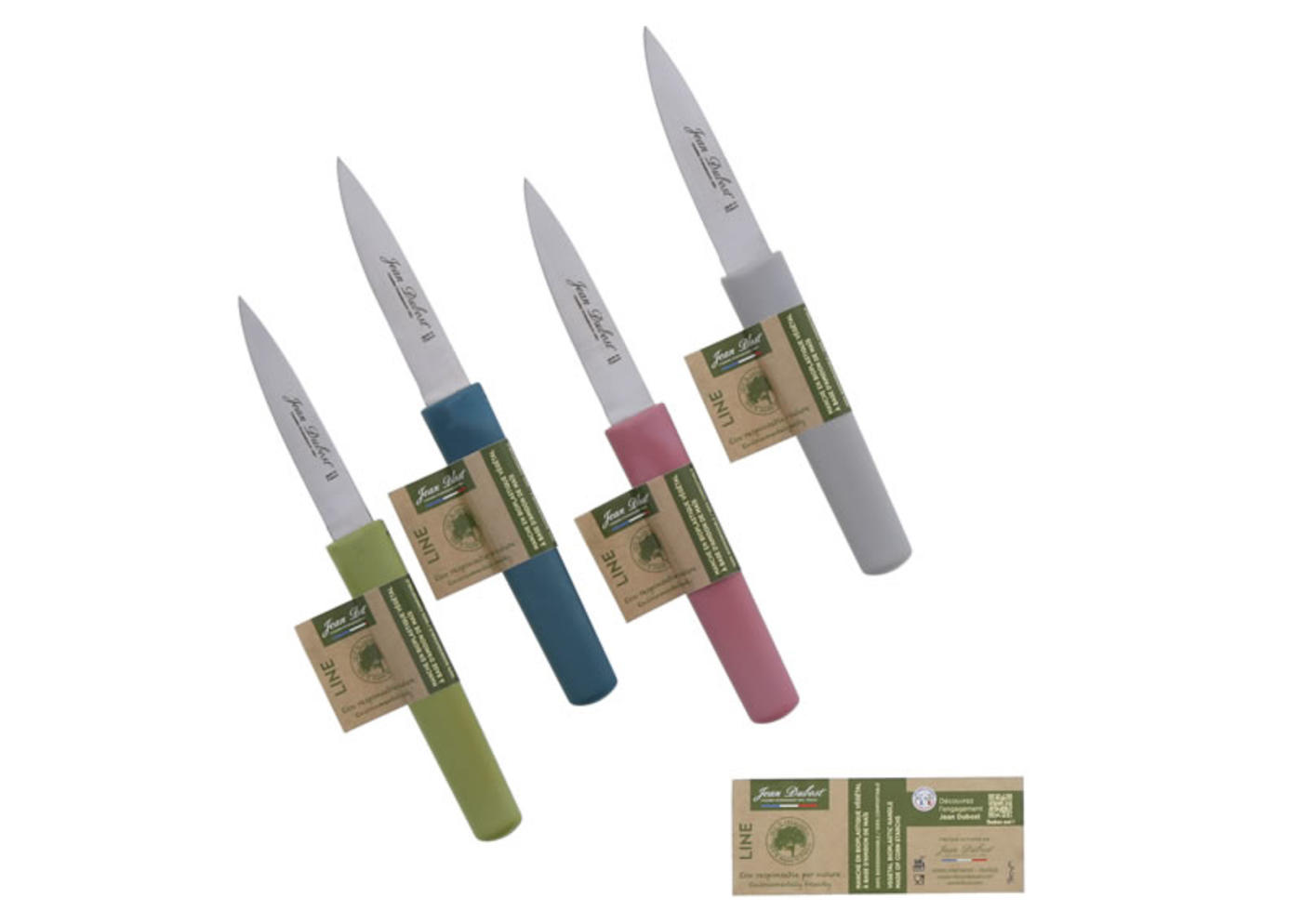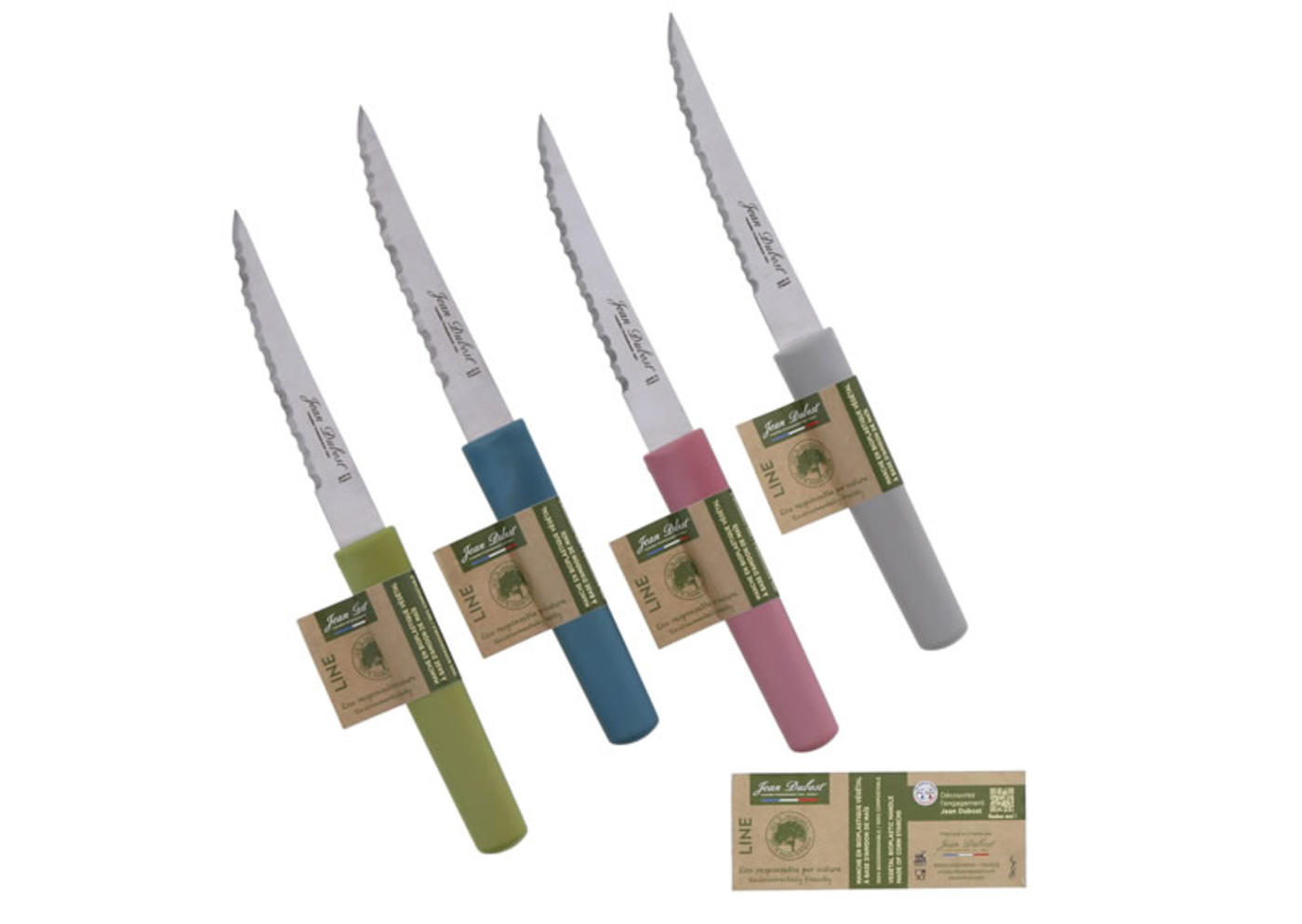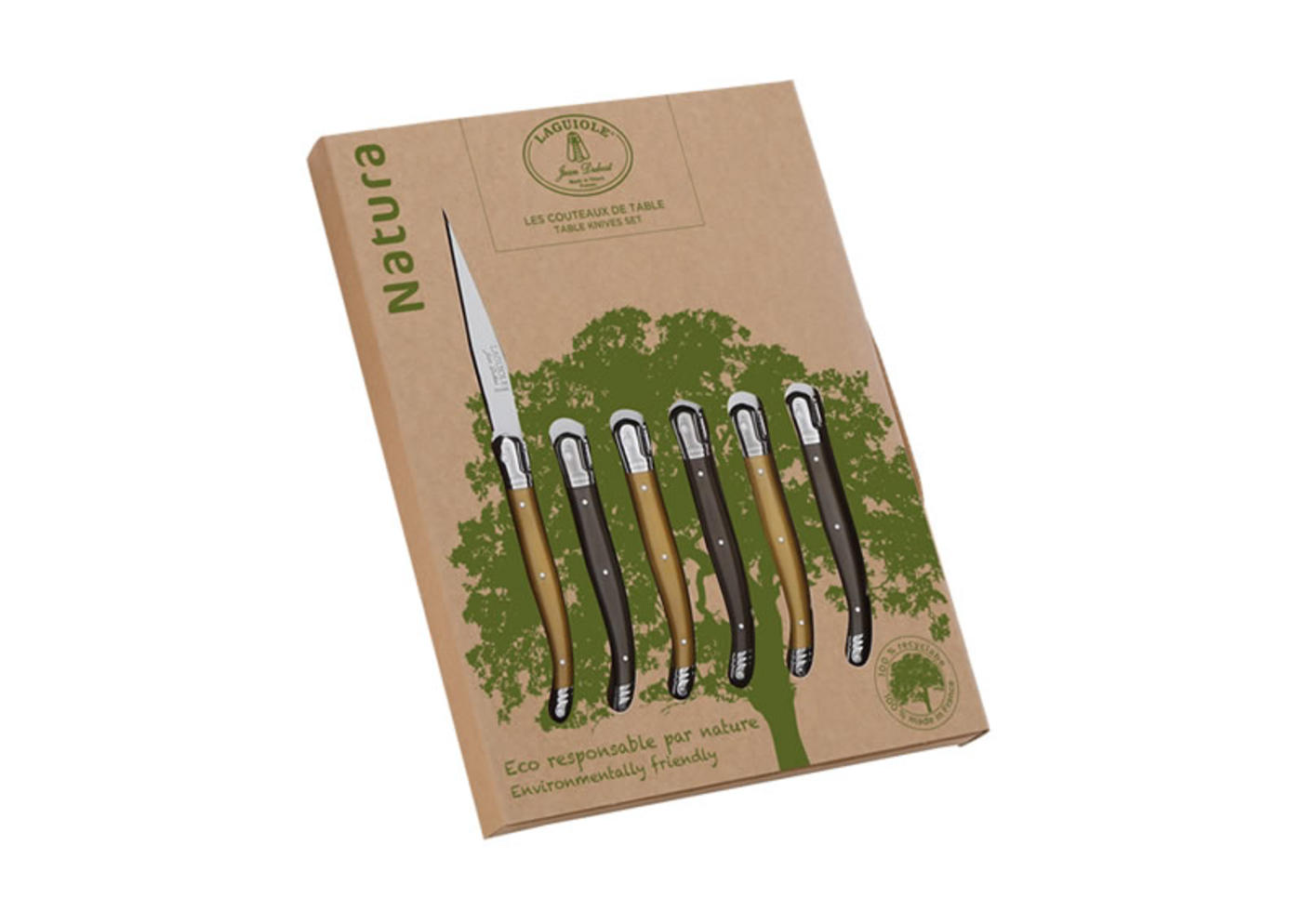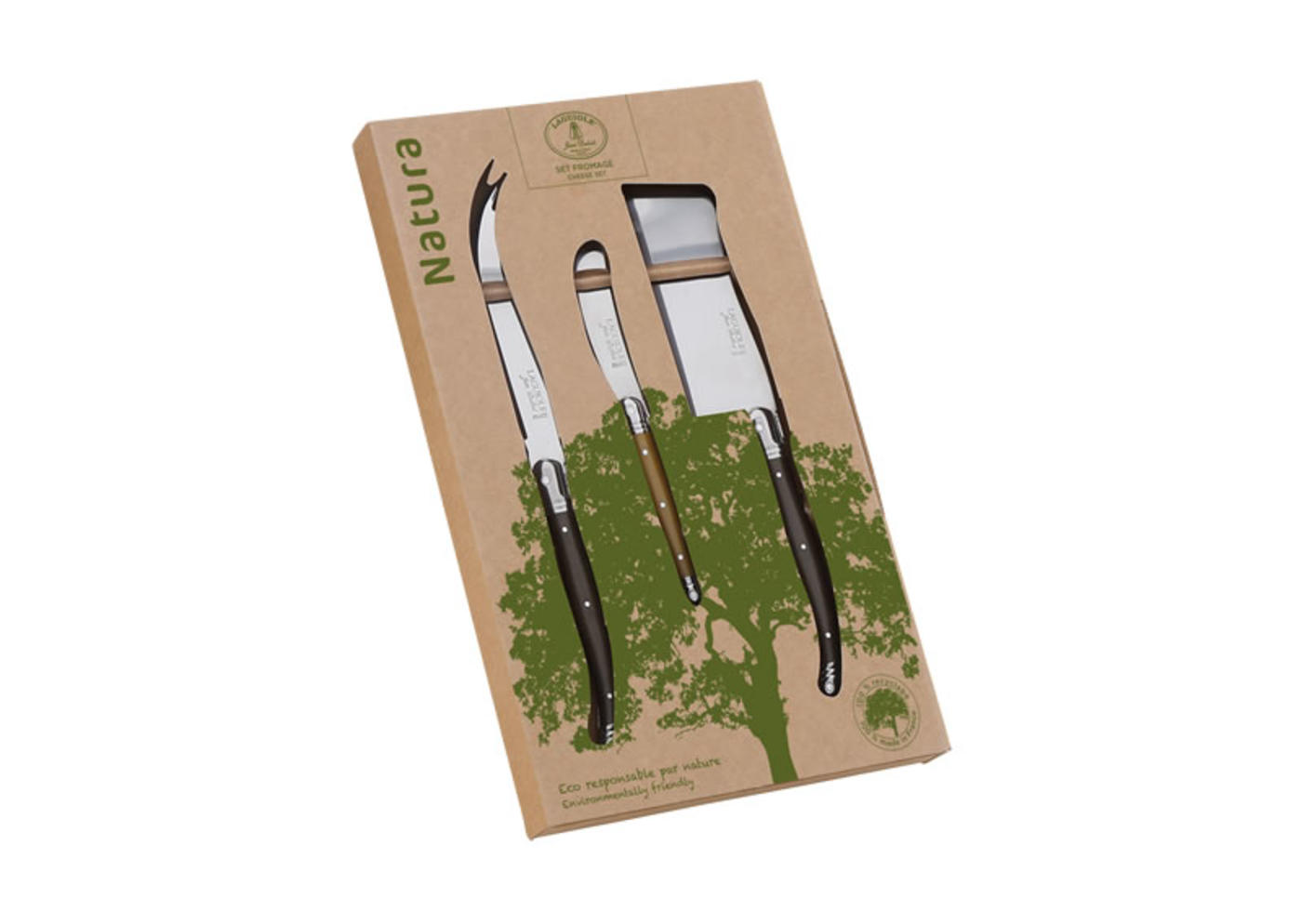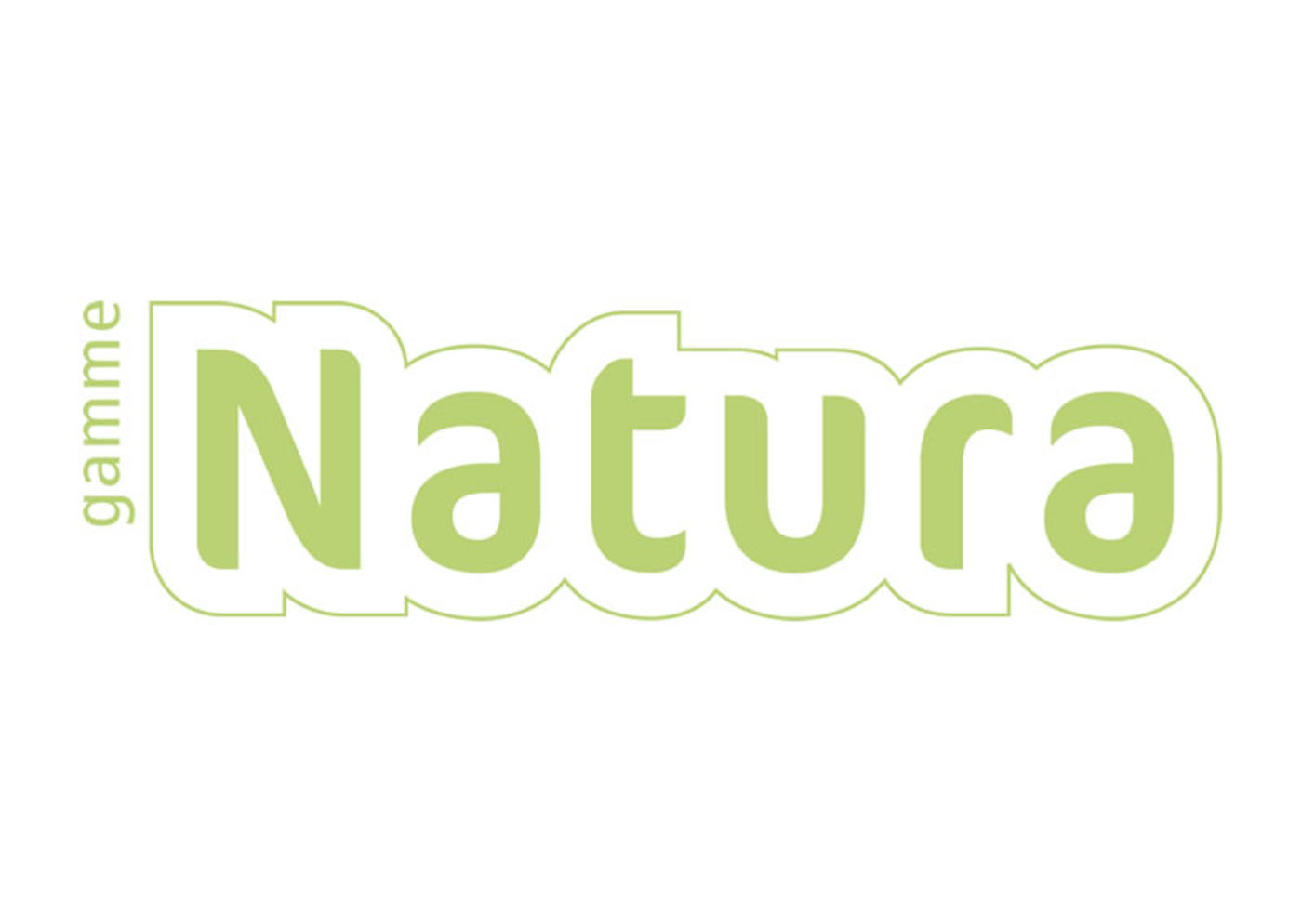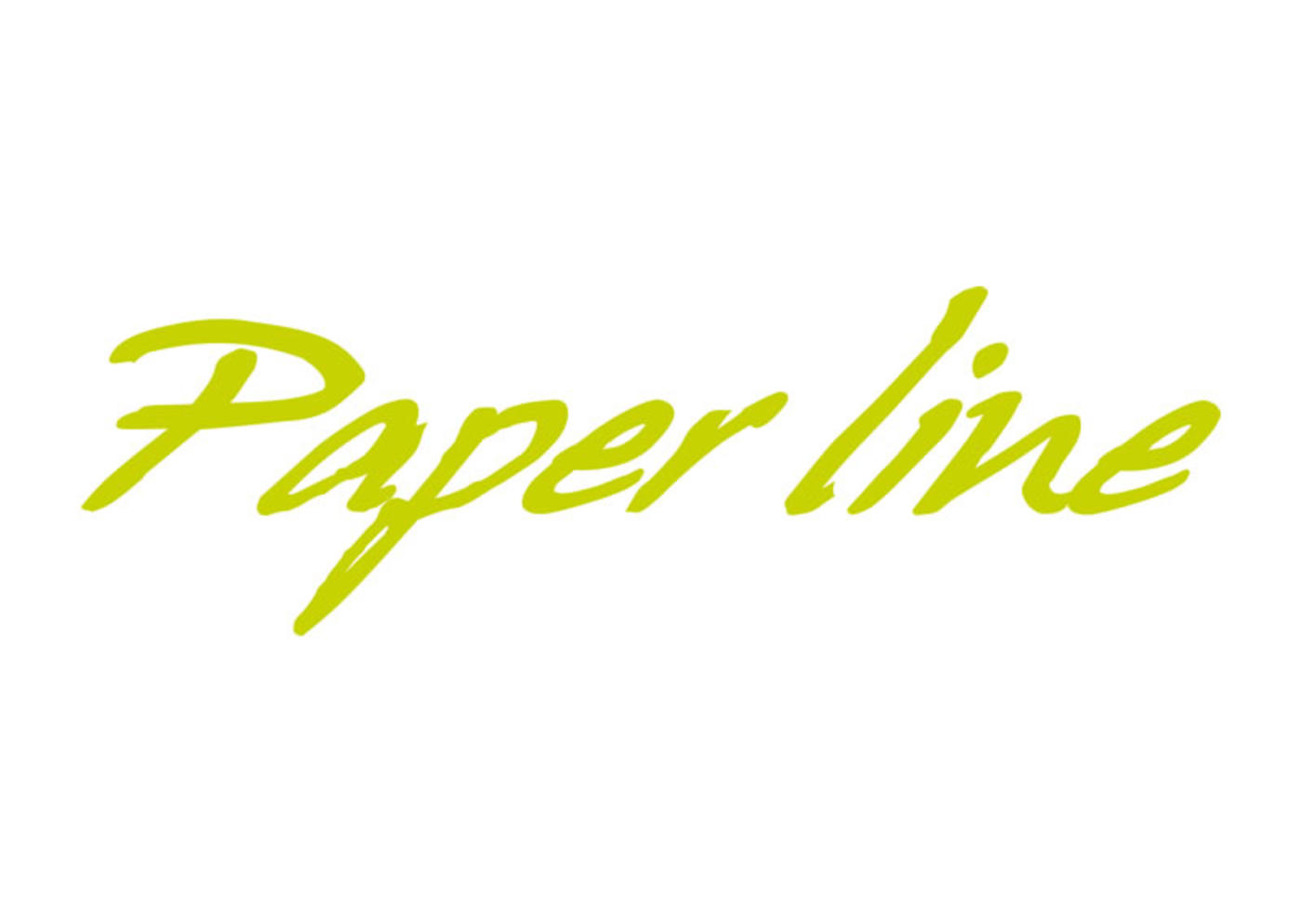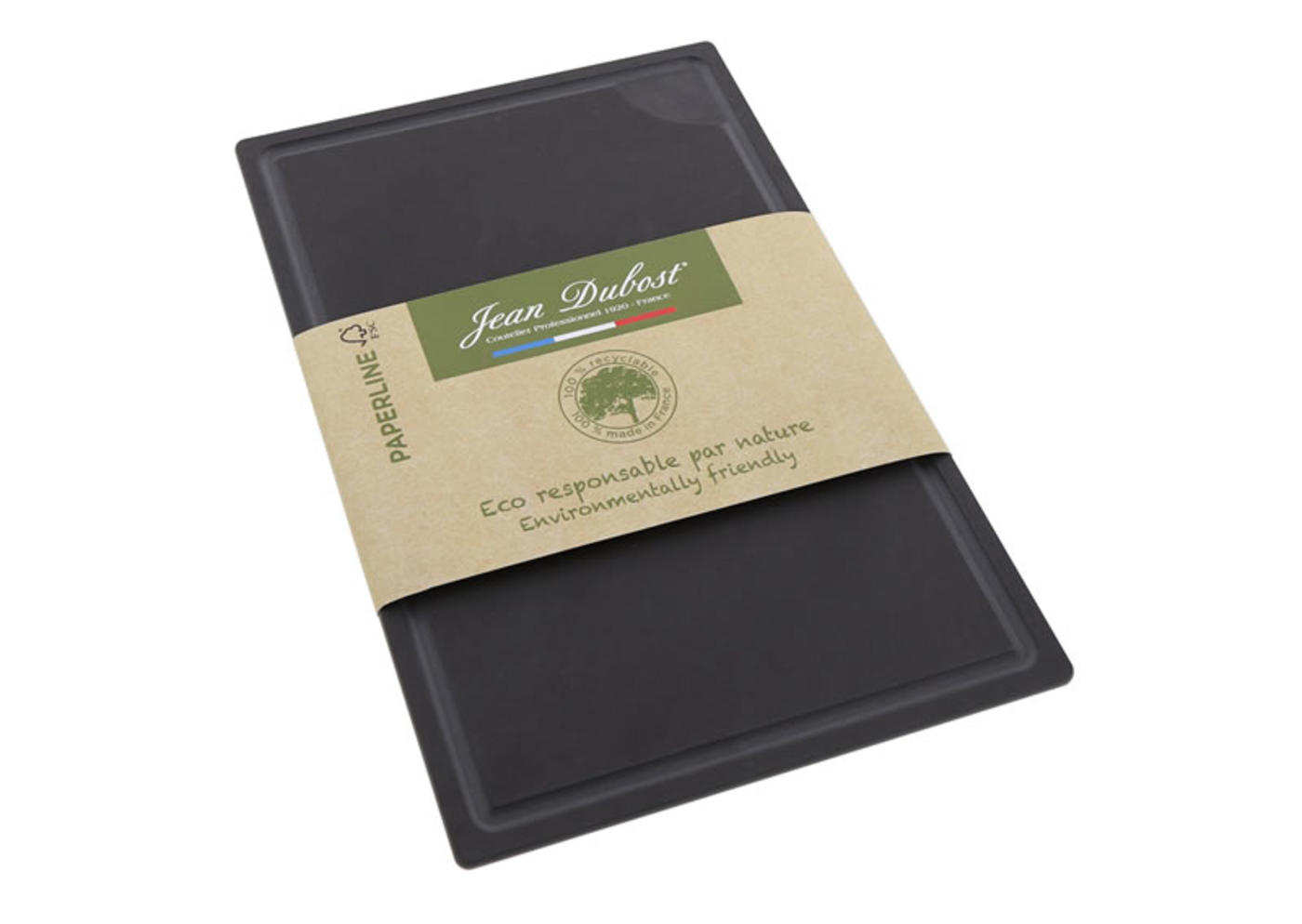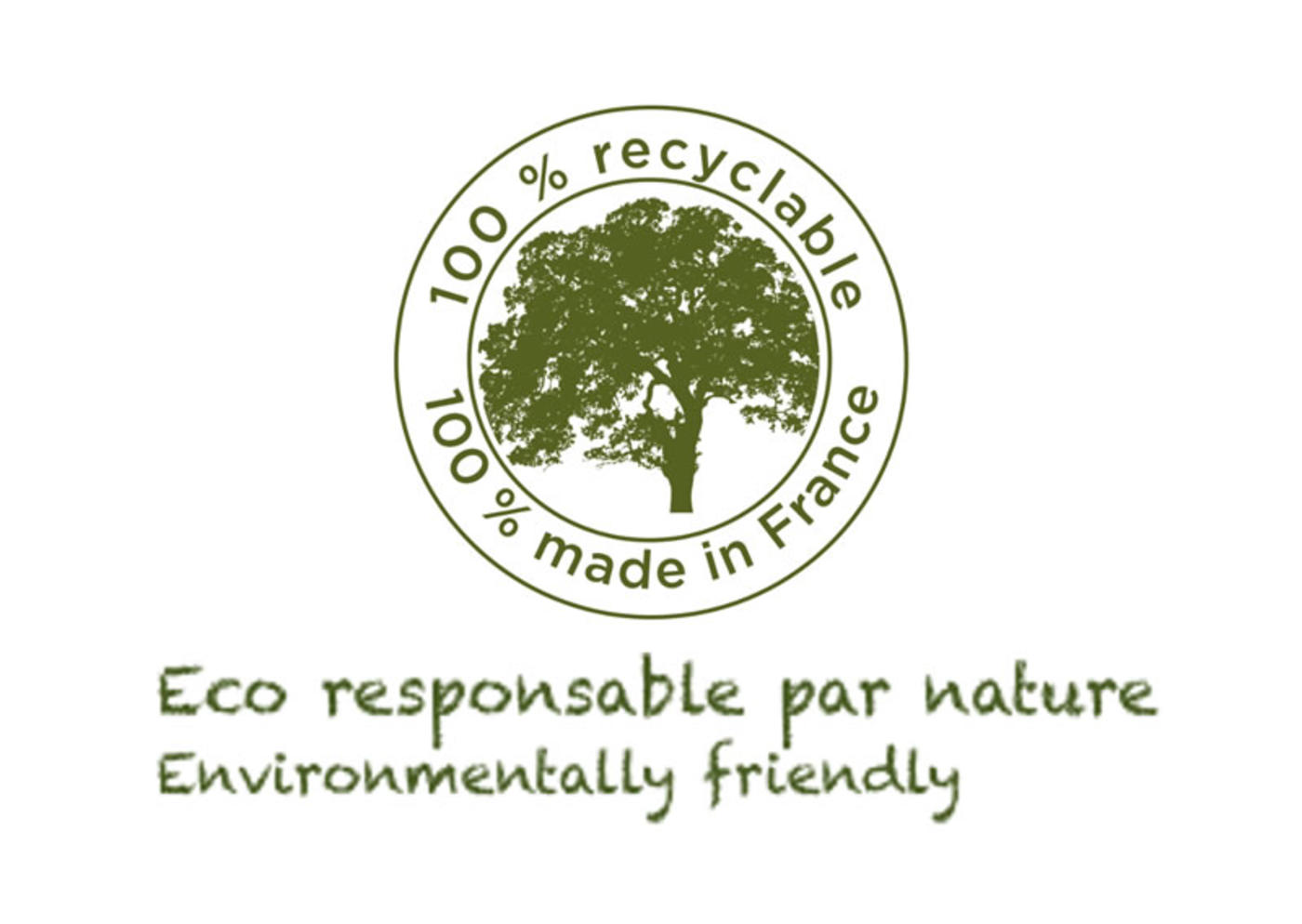 The Paperline range:
Jean Dubost offers a chopping board made from recycled paper and natural resin (no petroleum products). Its non-porous surface ensures that it is resistant to water, UV, stains as well as high temperatures (180°C), and it is also dishwasher-compatible. Protecting our planet means using recycled materials in line with the FSC standards of the Rainforest Alliance's Smartwood programme.
Example of a Paperline product: Jean Dubost Paperline chopping board
Choosing Jean Dubost products means opting for quality, and acting for the environment!