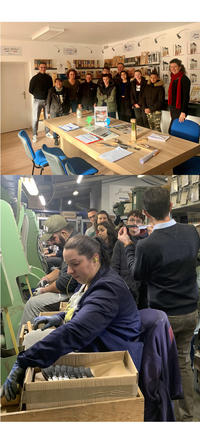 On the occasion of the last open days of our area's companies, we are delighted to have been able to participate and inaugurate the new device proposed by the collective « Industrial Territories » this year, that gave the opportunity to dedicate this visit to the children of employees, as part of the operation "tell-us, what is your job?".
Thus, in collaboration with their schools, we were able to welcome Emma, Krystal, Romane, Antoine and Esteban, it was an immense pleasure to make them discover all our jobs and know-how, and more particularly of course the profession of their parents within the Jean Dubost team!
We sincerely hope that this visit will have enabled them to have a more enlightened view of the business world, its operations, its professions and the importance that all work together to move forward.

Certified CSR level committed by AFNOR certification, environmental, societal issues and their challenges are at the heart of Jean Dubost's concerns. The field is rich and very large, so we will participate in the next colloquium of the Confederation of Table Arts, a place of exchanges and sharing that will be held in Paris on next 26th and 27th June.